Thanks to Ethan for sending this in: Hidden in plain sight is the history that is locked away and painted over, in the big abandoned building on the bends that we all drive past every day at 33 Bridge Street, Korumburra. 
by Janet Wilson
We have some knowledge of the history of this building, but there is much detail needed to fill in the gaps. This document will give some detail, and hopefully an accurate telling of the story; but we would welcome more information or correction to any details that readers may be able to give us.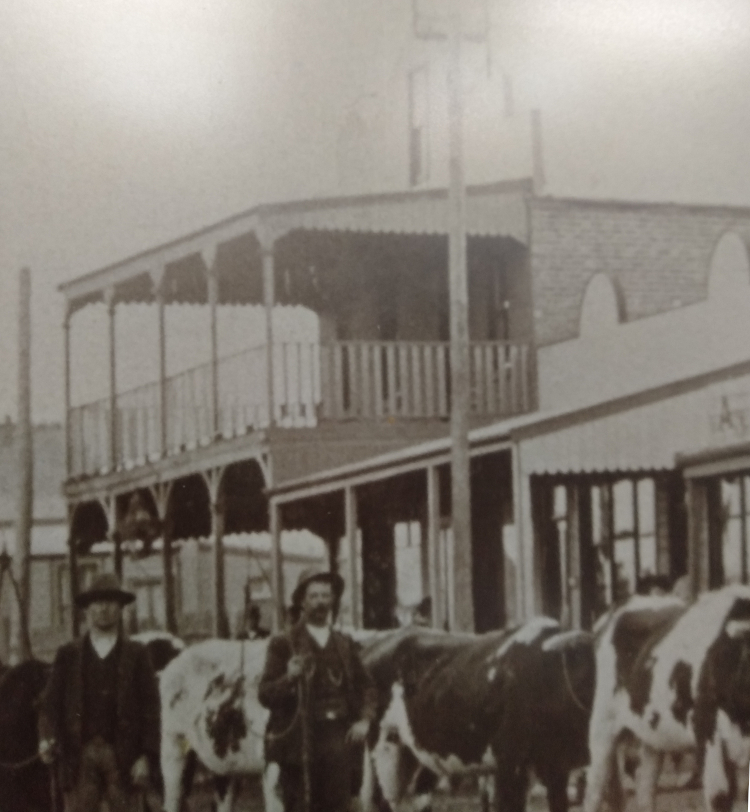 The first building on the site was the Temperance Hotel, a wooden structure of two storeys, built by William Nuttall in 1892. William Nuttall was among the first to purchase land in the town at the first land auctions held in 1888.
There were three fires which took place in 1898, two in January a third in February, that make it sound as if Mr. Nuttall's building was damaged and then completely destroyed. One report of the third fire states that there were five buildings along the street, and that the fire all but destroyed all of these. Did Mr. Nuttall rebuild, or what happened next?
From about 1908 Duncan N. Robertson was in the building on this site. Mr. Robertson died in 1945 .
Bill Fisher pulled down the old wooden building on the site and constructed the existing building in 1946. The bricks used on the building were second-hand, and came from the engine house and its chimney from the defunct Austral coal mine. Mr. Fisher operated a hardware and joinery business.
During the 1940s Dr. Fairlie, a dentist, occupied rooms in the upper part of the building.
There were pinball machines and pool tables on the ground floor during the mid to late 70s, perhaps into the 80s. Did Sam Nobile own the building at this time? In this time there were good fish and chips, and a sit down area as well.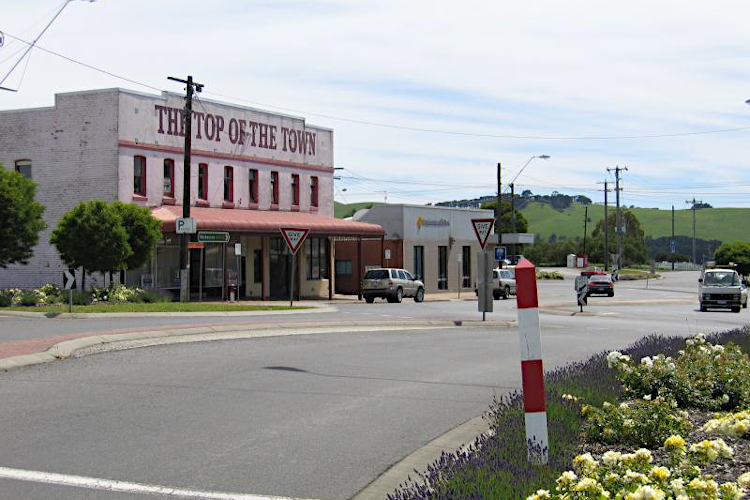 There was a Chinese restaurant following this, but before the time of the Rainbow Palace.
Serafino's Pizzas were here for a time.
The Chinese restaurant 'Rainbow Palace' was in the building for a number of years.
An advertisement in 1996 finds Debbie's Curtains and Craft in the Top of the Town.
'Patten's on Bridge' was in the building until 2017. At this time the building was put up for auction.
The last business the building was the Korumburra Fish Kitchen.
Looking back on what I have written here, I realise that there are large gaps in what I know of the building. There must be people about who can add to this telling of the story of the Top of the Town. One question would be as to when did the building become known as the Top of the Town?
Images:
Temperance Hotel © Korumburra & District Historical Society
Top of the Town © Travel Victoria
Updated with new information contributed from the community 4/10/2020