Jeetho Hall was voted most popular in Korumburra & District Historical Society's first Historical Icons poll. Learn more about the hall from its dedicated community group and guardians, the Jeetho Hall committee.
Jeetho Hall
by Lorraine Knox
The Jeetho Hall has a rich history as one of South Gippsland's iconic buildings. It has had many lives and is currently enjoying a new resurgence, putting the small hamlet of Jeetho back on map.
Surrounded by the countryside that is South Gippsland, its rolling hills and lush pastures ensure a unique privacy. The Jeetho Hall has become a popular venue for Weddings and Celebrations. Its charm is retained within its original character, yet it is well equipped with modern facilities. Outside, enclosed by a rustic post and rail fence and wrought iron gates, is a large grassed area perfect for marquees to easily cater for large events.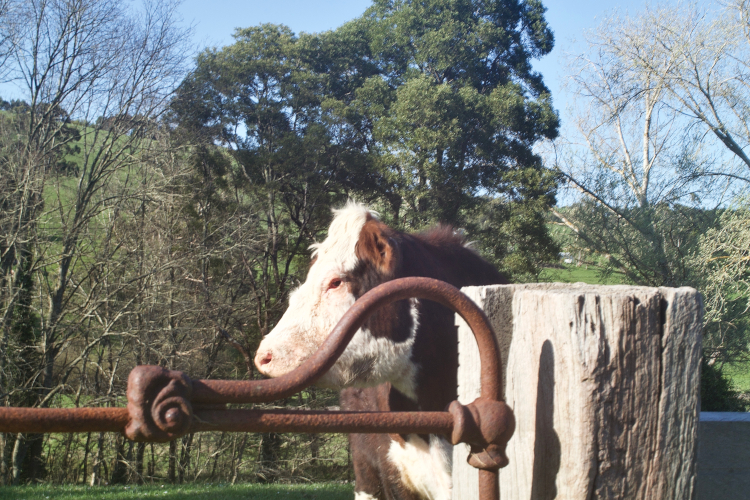 But this Hall was originally created for a different reason…
The township of Jeetho Valley was surveyed from land selected by William J Hosking in 1876, for his daughter Mrs Ursula Richardson. 31 acres were divided into 154 allotments with 9 streets developed. In 1901 there were 24 houses and the population consisted of 50 males and 43 females. By 1904, all lots had been sold. Jeetho prospered into a thriving community and boasted a Hall, Coffee Palace, Blacksmith's, Church, Bakery, Butcher, Colonial Bank, Grocers, Sawmill, Brickworks, Saddler, Wine saloon and 3 railway houses. Jeetho Railway Station opened in 1891. The first of 3 schools built in Jeetho began operation in 1886 with an enrolment of 30 students, 13 boys and 17 girls. By 1907 enrolments had grown to 65 students and beyond in later years. The word 'Valley' was dropped and the town of Jeetho was thriving.
During this time Jeetho became the centre of local government for The Shire of Poowong and Jeetho. Mr W J Hosking selected Crown Allotment 9 and 10 in the Parish of Jeetho on November 2nd 1876. He offered to build offices and council chambers for the newly formed shire together with a nine-stall stable. This offer was accepted by the 'Shire of Poowong and Jeetho' on the January 15th 1892. The new shire hall was completed on July 7th 1892 and gifted to the Shire who used the building as its chambers until 1907. The first council meeting at Jeetho Shire Hall was on 1st November 1892. Standing convention of having the meeting date 'as Tuesday on or before the full moon' was observed to allow councillors to ride in moonlight by horseback to and from the meetings. Designed by J. Waugh, it is a local rare example of early architecture, which illustrates its original function as the first Shire offices by its superior design and unique features not found elsewhere in the Shire.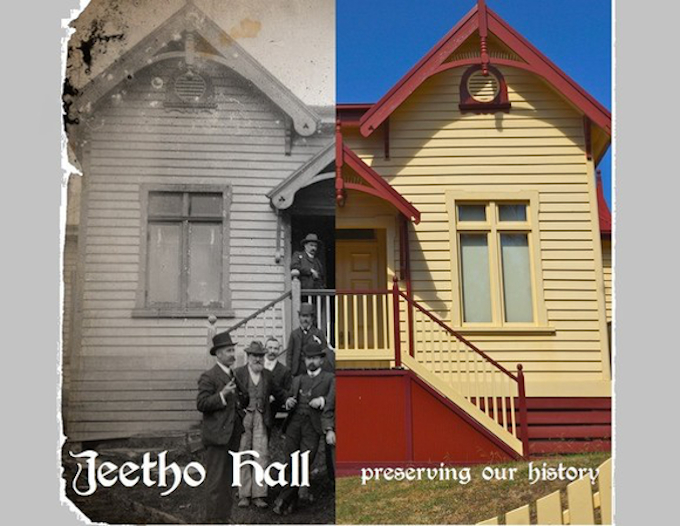 Meetings were held at Jeetho Shire Hall until 1907. Additional Councillors made accommodation at Jeetho a problem, along with the difficulty of getting to meetings. With the growth of the Korumburra Township, due to the discovery of coal, the council chambers were relocated. A group of Jeetho residents leased the hall from 1913 until 1918 when the Shire decided to sell it. This decision was soon made known through the local papers. The Jeetho community were very opposed to the sale and expressed their disapproval at a public meeting. The matter was finally settled when it was agreed that the Jeetho residents would buy the hall and good will for the sum of £70, to be raised by debentures. Trustees were appointed – John Johnson, Michael J McGrath, Joe Moden, Tom Foristal and Robert F Wynne – and were recorded on the title on July 2, 1919. All debenture holders were fully paid off by 1924.
When the shire offices moved to Korumburra, Jeetho was no longer the hub of infrastructure and activity. Korumburra and Jumbunna had working coal mines that were a source of employment for locals. The building of the railway line through to Wonthaggi also caused the decline and finally the disappearance of Jeetho. Many of the houses in Jeetho were shifted to other locations. Jeetho predominantly became a rural farming area.
But the Jeetho Hall has survived and flourished, and is today the only remaining building of a once thriving town. The community are still the proud owners. Many trustees have been appointed prior to 1986, when the Jeetho Hall became incorporated. It has since been run by a committee of management. Dedicated Volunteers are the only reason this historic hall still exists and it is an interesting proud fact for Jeetho that the tradition continues with direct descendants of the original trustees still on our current committee.
In 1979 the Jeetho Hall had a "back-to" weekend, 1992 a hundred year celebration and more recently in 2017 a special function to acknowledge 125 years. The hall has been extensively used for all these years but has needed a few facelifts along the way. The most recent refurbishment, reopened in 2013, has given our hall and our community a new life.
"The current Committee are committed to retain the Jeetho Hall as a focal point for the community into the future, and we endeavour to continue to be worthy custodians for the next generations" – Lorraine Knox (secretary)
Visit us at: jeethohall.com.au
Contact us: contact@jeethohall.com.au
Images:
Featured image, brochue and interior images: © Jeetho Hall Committee
Exterior Images:C S Hughes